Paris, 22nd June 2023 - Minister for Finance, Ken Ofori-Atta has called on world leaders to develop enlightened self interest in the issues of climate change, the adaptation of climate vulnerable countries and the formulation of more ambitious mitigation initiatives.
According to him, the time had come for leaders to develop "powerful coalitions" that were determined to fight for humanity's common good and review the definitions of global goods and country responsibility in relation to climate change.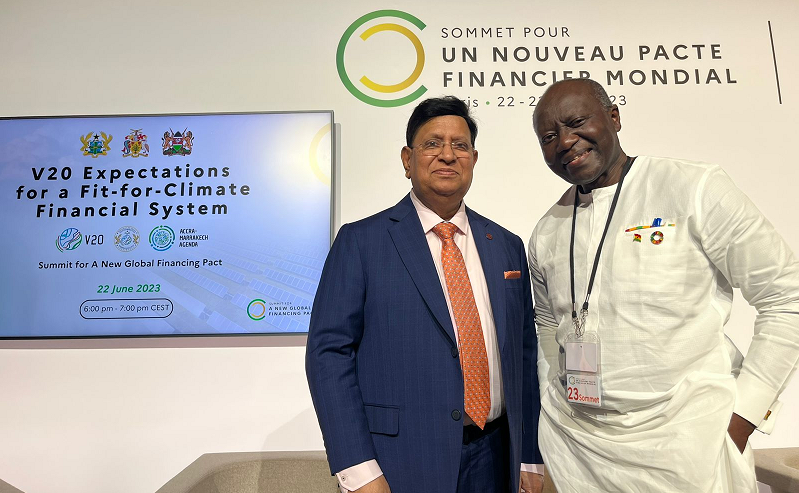 The review, the Minister noted, could revolutionize how countries who were in debt due to their efforts to rebuild after climate events had wrought devastation in their economies or countries that were seeking funds to build resilience and adapt to the ongoing climate events could be supported.
Speaking at a summit organized by the French government on the New Global Financing Pact in France, the Chair of the V20 called for "the kind of leadership the world saw that led to the abolishment of apartheid, the drive behind the civil rights movement and the development of the Breton woods institutions".
The French government organized a summit on the New Global Financing Pact in order to facilitate the resolution of global challenges like global warming, loss of biodiversity, debt, pandemics, and the return of extreme poverty since the current state of cooperation between states has been satisfactory.
The summit brought together heads of state and government, leaders of major international organizations, representatives of global financial institutions, and private sector and civil society representatives.
The discussions over the two-day period centred on addressing the financing required to meet the global challenges and to build solidarity amongst countries and all the critical stakeholders as governments work in solidarity towards a just green transition exploring a change of scale and methods.
The Minister for Finance reiterated President Nana Addo Dankwa Akufo-Addo's call for support for global financial system reform as advanced by the V20 Group of Finance Ministers of the CVF through the recently launched Accra-to-Marrakech Agenda or the A2M.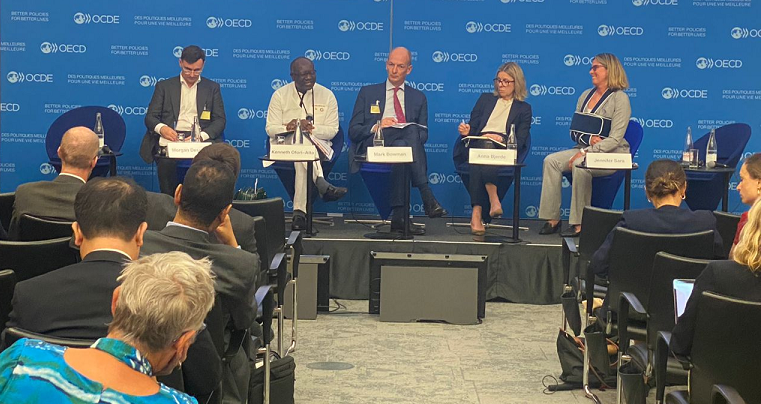 "It is Important to develop powerful coalitions that are willing to fight for our common humanity. As we coordinate our efforts to respond positively to the need for the development of a fit-for-climate global financial system, it's critical that we scale up the innovative climate financing mechanisms and speed up climate action to ensure that we maintain the 1.5-degree Celsius temperature limit", Mr. Ofori-Atta stated.
Representing the Government of Ghana were the President of the Republic of Ghana, Nana Addo Dankwa Akufo-Addo, Minister for Finance, Hon. Ken Ofori-Atta and Minister for Environment, Science, Technology and Innovation, Hon. Dr. Kwaku Afriyie.
Ghana is the current Chair of the Climate Vulnerable Forum (CVF) and the Vulnerable Twenty Group of Finance Ministers. The V20 Group is a dedicated cooperation initiative of economies systematically vulnerable to climate change.
The V20 membership stands at 58 countries representing some 1.5 billion people from Afghanistan, Bangladesh, Barbados, Benin, Bhutan, Burkina Faso, Cambodia, Chad, Colombia, Comoros, Costa Rica, Côte d'Ivoire, the Democratic Republic of the Congo, Dominican Republic, Eswatini, Ethiopia, Fiji, The Gambia, Ghana, Grenada, Guatemala, Guinea, Guyana, Haiti, Honduras, Kenya, Kiribati, Kyrgyzstan, Lebanon, Liberia, Madagascar, Malawi, Maldives, Marshall Islands, Mongolia, Morocco, Nepal, Nicaragua, Niger, Palau, Palestine, Papua New Guinea, Philippines, Rwanda, Saint Lucia, Samoa, Senegal, South Sudan, Sri Lanka, Sudan, Tanzania, Timor-Leste, Tunisia, Tuvalu, Uganda, Vanuatu, Viet Nam, and Yemen.END