Accra, Friday 10th June 2022 - The Ministry of Finance and its Agencies marked the Green Ghana Day with planting of tree seedlings at the forecourt of the Ministry of Finance.
The Minister for Finance, Hon. Ken Ofori-Atta, was joined by the Minister for Tourism, Hon. Mohammed Awal, a Deputy Minister for Finance, Hon. John Ampontuah Kumah, Chief Director of the Ministry of Finance, Dr. Patrick Nomo, Controller and Accountant General, Mr. Kwasi Kwaning Bosompen, Representative of Ghana Revenue Authority led by Mrs. Hannah Acquah Sampson, Deputy Commissioner Post Clearance Audit, and a National Service Person, Bernice Ansah to plant tree seedlings.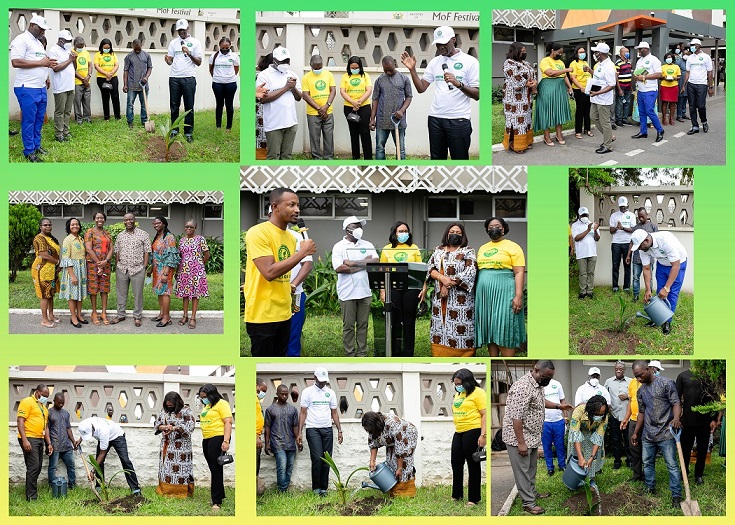 In his short remark, the Minister for Finance noted that it was important for Ghanaians to understand that, it was our individual and collective responsibility to safeguard the planet, the people and to maintain peace and prosperity through sustainable partnerships.
"According to a report by the AfDB, four in every five Africans rely on solid biomass for cooking, which causes an estimated 600,000 deaths per annum due to household air pollution in addition to the challenge of deforestation. This report is alarming and should serve as a clarion call for all of us to take tree planting and preservation seriously, as our very survival depends on the environment" he stated.
Over 150 tree seedlings were distributed for staff to plant in their homes.