Accra, 10th June, 2023 - The Minister for Finance, Hon. Ken Ofori-Atta has given assurance of government's continuous commitment to support efforts aimed at conserving the forest cover of the country.
He said the government would "allocate funds to strengthen the capacities of our forestry agencies, enhance monitoring and enforcement mechanisms, and provide incentives for sustainable forest management practices".
Speaking on behalf of the Minister for Finance at the commemoration of the 3rd National Tree Planting Exercise at the Ministry of Finance, the Minister of State at the Ministry of Finance, Hon. Dr. Mohamed Amin Adam said that, government would collaborate closely with international partners to find creative financing ways to boost investments in forest protection and climate resilience.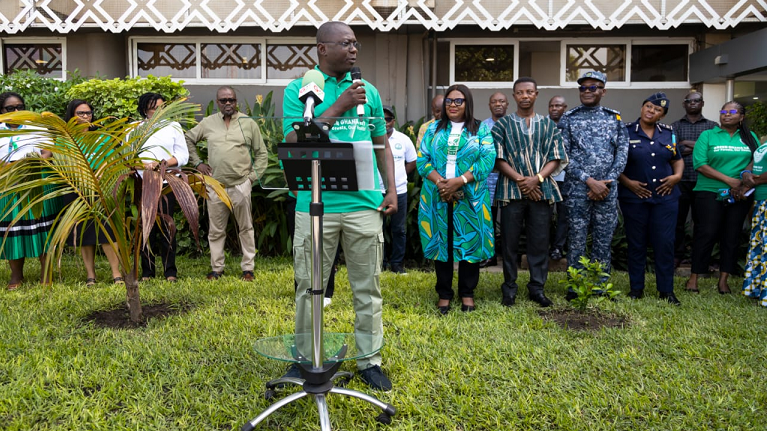 Staff of the Ministry of Finance and its agencies joined the rest of the country to plant various tree seedlings to mark the Green Ghana Day. 200 tree seedlings were distributed to staff of the Ministry to plant in their homes to mark the momentous event. This is part of the Ministry's drive to support governments agenda of planting over 10 million tree seedlings this year.
Mr. Ofori-Atta who is the Chair for the Vulnerable Twenty (V20), said "I am fully committed to mobilizing the necessary resources to support our forest conservation and sustainable development agenda ".
Touching on the theme for this year's tree planting exercise "Our Forests, Our Health", the Minister enumerated a number of human induced activities which had negatively impacted the forest. These he noted, included deforestation, illegal logging, and illegal mining among others.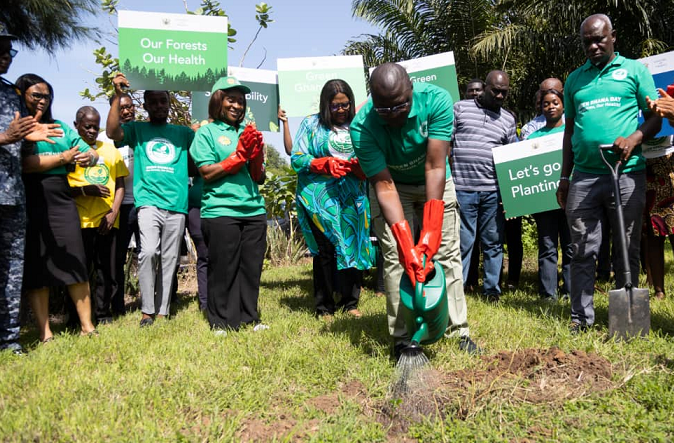 "According to FAOSTAT in 2020, Ghana's forest cover was close to 7.99 million hectares, accounting for 35.10% of Ghana's total land area. Based on analysis of data from 2001-2015, Ghana's annual deforestation rate was approximately 3.51%, equivalent to yearly losses of greater than 315,000 hectares. Total deforestation during this time period surpassed 4.7 million ha. Unfortunately, deforestation is not a new phenomenon in Ghana, in 1900, Ghana had over 8 million ha of tropical high forest, but from the 1950s to 2000, 2.7 million hectares, over 60% of Ghana's primary forests, were lost" Mr. Ofori-Atta stated.
He called for pragmatic approach which included strengthening forest governance, promoting reforestation and afforestation and engaging responsible land-use practices to address the challenges for sustainability of the vegetation cover for current and future generation.
"Today, I call upon every Ghanaian to embrace their role as custodians of our forests. Let us join hands in planting trees, protecting our natural resources, and promoting sustainable living", the Finance Minister stated.
Trees planted in the previous years under the Green Ghana Day initiative were watered and new tree seedlings planted. New trees were planted by the Minister for State at the Ministry of Finance, Hon. Dr. Mohammed Amin Adam, who is also the MP for Karaga, Hon. Abena Osei-Asare, a Deputy Minister for Finance, Ms. Eva Mends, Chief Director for the Ministry of Finance, representatives from the Controller and Accountant Generals' Department and the Ghana Revenue Authority END.