Accra 18th May, 2023 – The Chief Director of Ministry of Finance, Ms. Eva Esselba Mends, has announced that, the Ministry is implementing a series of Technical Media Briefing programmes to improve communication on the three-year International Monetary Fund (IMF) Programme.
She said this at the maiden Technical Briefing session with a host of media personnel at the Accra International Conference Centre following the approval of the IMF Programme on Wednesday, 17th May 2023. The International Monetary Fund (IMF) last Wednesday approved Ghana's Programme request seeking for a $3 billion Balance of Payment support to stabilize the economy.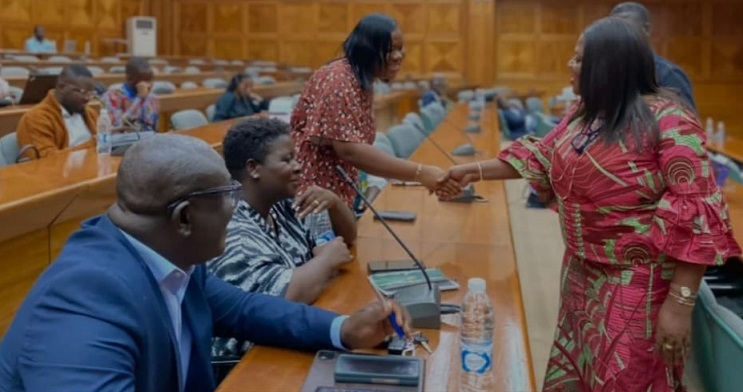 Ghana received the first tranche of US$3 billion Extended Credit Facility with the International Monetary Fund; six other tranches are expected within the next three years. The Ministry of Finance and other key stakeholders facilitated and negotiated this IMF programme to build back the economy after the devastating impact of the COVID-19 pandemic and subsequently, the Russia-Ukraine war.
Ms. Mends spoke of the economic recovery and revitalization efforts of Government and noted that "the media is vital to effective economic governance in our society, acting as a bridge between the government and the people. It is through your efforts that the citizens of Ghana stay informed, make informed decisions, and actively participate in the development of our nation."
The Chief Director reiterated the Ministry's commitment to enhance engagement with the media to foster a transparent and accountable government. She was optimistic that such structured meetings would provide feedback, create, and sustain an environment of open exchange of ideas.
Dr. Alhassan Iddrisu, Director, Economic Strategy and Research Division, made a presentation on Ghana's IMF programme.
In attendance were the Hon. Minister of State, Dr. Mohammed Amin Adam (MP), the Communications and Public Relations Team and key Technical officers of the Ministry. End