Accra, Thursday 2nd February 2023 - A delegation from the Africa Export and Import Bank (AfriExim Bank) has paid a curtesy call on a Deputy Minister for Finance, Hon. John Kumah.
They used the occasion to officially inform the Ministry of the Bank's decision to have Ghana host its 30th Annual General Meeting (AGM) in Accra from 19th to 25th June 2023.
The Bank was established in Abuja, Nigeria in October, 1993 by African Governments, African private and institutional investors as well as non-African financial institutions and private investors for the purpose of financing, promoting and expanding intra-African and extra-African trade.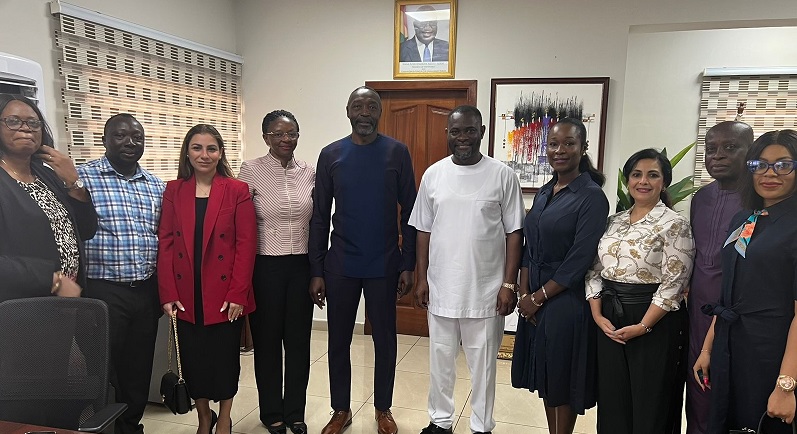 Mr. Tito Alai, Director for Communication and Events of the Bank and leader of the delegation noted that like Ghana, the Bank has been promoting integration  of African economies for the total liberation of Africa, adding that they could not have chosen a better place than Accra where the liberation story for Sub-Saharan Africa begun.
He noted further that, deliberations on the upcoming Annual General Meetings would continue earnestly in the coming months and commended the local team for taking them on a tour of the hosting facilities and expressed their joy at the facilities.
Hon. John Kumah in welcoming the delegation on behalf of the Minister, commended the Bank's commitment to African values and Pan-Africanism adding that these values were ingrained in the Ghanaian.
The Deputy Minister added that, the time was ripe for Africa to harness their collective resources for the growth and prosperity of its citizens and so it was highly commendable for the Bank to represent what the continent stood for.
He said Ghana's desire has always been for Africa to have a common front on economic and political issues to give Africa a solid bargaining power adding, "we can do better when we harness our collective efforts in all fields".
He indicated Government's preparedness to host the event that was expected to bring over 3000 participants into the country.
He assured them that the Ministry will accord them all the needed assistance and that the Minister was particularly enthused about their overall commitment to African growth.
"We are not just hosting the event, we are happy to be part of the success story of the Bank" Mr. Kumah added. Present at the meeting were officials of the Ministry and other team members of the Bank. END