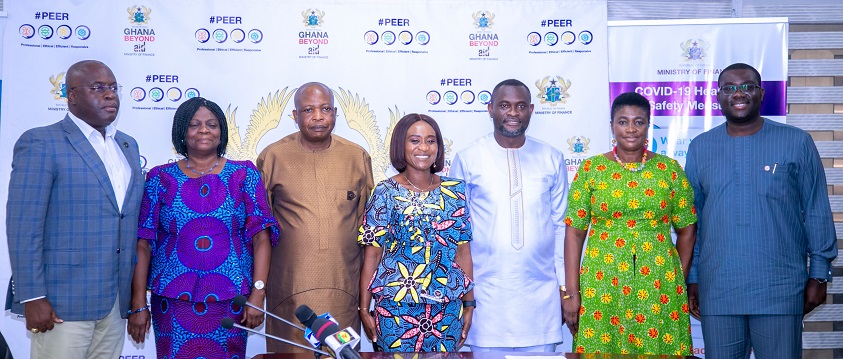 Accra, Friday, 17th September, 2021… The newly inaugurated Board of the National Lottery Authority has been charged to ensure revenue leakages in the system are blocked and revenue generation improved, deal decisively with the activities of illegal operators, and improve human capital development to be operationally efficient.
 "Reposition to expand brands, operate with best business modules under secured and safe environment with state-of-the-art technologies and equipment to help government's revenue mobilization and job creation agenda".
These were comments by the Deputy Minister for Finance, Hon. Abena Osei-Asare (MP) when she inaugurated the governing Board of National Lottery Authority (NLA) on behalf of the Minister for Finance, Ken Ofori-Atta.
The Board, which has Togbe (Hon) Francis Albert Seth Nyonyo as Chairman, comprises, Deputy Minister for Finance, Hon. John Kumah, Director General for the National Lottery Authority, Mr. Samuel Awuku, Chief Director for the Interior Ministry, Mrs. Adelaide Anno-Kumi, Mrs. Helen Akpene Awo Ziwu, Madam Joana Frances Adda, and Mr. Philip Kofi Aning.
Addressing Board Members after administering the Oath of Office and Secrecy, the Deputy Minister recalled that four years ago, the Board was tasked to deliver an efficient and strong NLA capable of generating revenue for development and support for good causes as enshrined in NLA's Act, 2006 (Act 722).
Hon. Osei-Asare indicated that the Authority made, "marginal progress as signified by NLA's dwindling contribution into the Consolidated Fund in the past four years". She however, lauded the Authority's support to the needy in society and support to sports, youth, and health development over the past four years.
The Minister, who is also the MP for Atiwa East stressed the importance of digitization in a post covid-19 era saying, "Digitalize not only operations for efficiency but ensure all games are digitalized as new normal occasioned by incidence of Covid-19".
She charged the Authority to map up creative and timely business modules to maximize revenue and ensure business continuity and stakeholder satisfaction.
She encouraged Members of the reconstituted Board to work together to ensure that the dreams and aspirations of players are met, as well as ensure that they support government raise the required revenue for recovery and acceleration of the Ghana Beyond Aid agenda.
The Board Chair, Hon. Francis Albert Seth Nyonyo on behalf of fellow Board Members thanked the President for the honour done them and assured that the Board will work to among other things foster the Ghana Beyond Aid Agenda and the Ghana CARES Obaatan-Pa programme. 
He indicated that the Board would enhance the use of digital solutions to make the lotto business efficient and work together to address the menace of fake and, "unlicensed lottory operators being advertised on National television" as these activities have denied the nation of the needed revenue.
He also appealed to government to provide the needed support to ensure the Authority is brought to a world class level. 
The inauguration of the Board of the National Lottery Authority (NLA) was done in consonance with the requirements of the 1960 Lotto and Betting (Act 94) and National Lotto Act, 2006(Act 722). END