Felicia is the Director for Human Capital & General Administration Division at the Ministry of Finance. In her capacity, she oversees the entire General Administration function of the Ministry of Finance with responsibilities spanning General Services, HR, Procurement, IT, Security, Accounts and Transport. Felicia previously worked as a Vice President and Head of Human Capital and Administration of the Databank Group.
In this role, she was responsible for the human resource strategy and functions of the Group including recruitment and staffing, learning and development, performance management, employee/labour relations and career development. Prior to taking up this appointment, Felicia worked as an Equity Research Analyst in the Research Department and was responsible for financial and economic analysis on the Ghana Stock Market and the economy.
Felicia graduated with first class honours in Psychology and French from the University of Ghana, Legon and has an MBA in Human Resource Management from the Paris Graduate School of Management, France. She is a member of the Institute of Human Resource Management Practitioners (IHRMP) and a member of the Society for Human Resource Management (SHRM).
She is a lawyer and a member of the Ghana Bar Association. Her interests include coaching and mentoring the young generation and inspiring them to develop an ethical and values-based mindset in their career.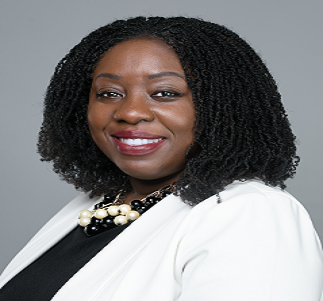 Felicia Ashley
Director, Human Capital & General Administration Division