Accra, 31st October, 2023 - The President and Chair of the Board of Directors of the US Export Import Bank, (US-EXIM) Reta Jo Lewis and some top management of the bank have paid a courtesy call on Ken Ofori-Atta, Minister for Finance.
They discussed Ghana's economy, financial sector, energy, in particular, power generation, transmission and distribution and ways in which US EXIM could help to improve the private sector participation in the economy.
Present were the Minister of State, Hon. Mohammed Amin Adam, Ms. Eva Mends, Chief Director and Ms. Virginia Palmer, US Ambassador to Ghana.
Welcoming the team, Ken Ofori Atta briefed them on Ghana's economic trajectory since 2017 and the current situation with the IMF PC-PEG programme.
He said Ghana has made a lot of progress with the Fund programme, having successfully undergone the first review and is looking forward to a positive response from the Fund and the Paris Club.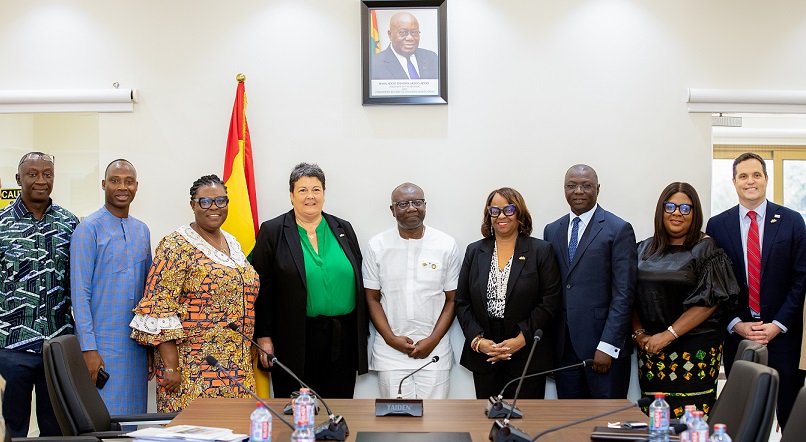 The Minister expressed appreciation to US EXIM for the facilitating trade and investment between Ghana and the US.
On her part, the President of US EXIM Reta Jo Lewis reiterated the solid relationship between Ghana and the bank and commended Ghana for the progress with the Fund programme and the economy in general.
She pledged the bank's support to Ghana during this challenging time and was hopeful that this visit will further enhance the relationship between Ghana and the US EXIM.
The President was accompanied by, Dan Tobin, Managing Director, U. S Exim, Hazeen Ashby, Acting Senior Vice President & Chief of Staff, Christopher Organ, Confidential Assistant, U. S Exim, Lucy Herbert, Press Secretary, U. S Exim, Dean Matlack, Commercial Counselor, US Embassy, Dan Reback, Economic Officer, U.S Embassy, Erik Adotey, Economic Section, US Embassy. Also present were Directors and officials of the Ministry of Finance.
US EXIM plays a vital role in facilitating trade and investment between Ghana and the United States. It offers a variety of financing and insurance services to Ghanaian companies and U.S. exporters, enabling them to access new markets and opportunities. EXIM Bank also support infrastructure projects in Ghana, such as those related to energy, transportation, and telecommunications. END.