Accra, Monday 30th October, 2023 - Minister for Finance, Ken Ofori-Atta has on behalf of Government signed two financial agreements worth 42 million Euros with the European Union with the aim of promoting sustainable development and economic progress.
The signing of the financing agreements has the main objective of accelerating Ghana's digital and green transition, boosting the private sector, including in particular the agribusiness sector, and strengthening Ghana's public financial management systems.
The two agreements, comprise a €27 million EU action for Sound Public Financial Management and Private Sector Development programme which aims to achieve the objectives of improving transparency and accountability in the management of public resources and the development of a greener, digitalized and more inclusive private sector in Ghana.
The second agreement is for a €15 million EU-Ghana Partnership for green transition and agribusiness programme which will focus on sustainable, climate-resilient agricultural production.
According to Mr. Ken Ofori Atta, the signing of these agreements has come at an opportune time and gave the assurance that, confidence in Ghana's economic prospects was returning with a new outset that has begun to take hold.
"Truly, Ghana has paid its dues; our fiscal situation has improved, our reviews with the IMF under our Programme are being completed successfully and on time; and broadly speaking, we are making steady progress toward macro-stability and debt sustainability" Mr. Ofori Atta said.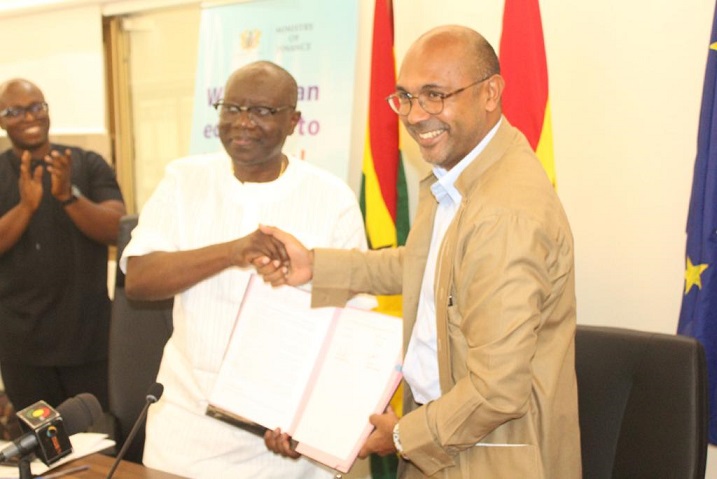 He said the agribusiness component would support the sustainable development of four value chains such as soya, shea, vegetables and beekeeping and also support sustainable cocoa production and actions to prevent deforestation.
Additionally, he recognized the EU as a reliable partner for Ghana, in the latter's quest for sustainable development and referred to the 86.5 million euros in emergency budget that the EU provided in 2020 in the wake of the COVID-19 pandemic and its impact on Ghana's economy as timely.
"We in Government are fully committed to ensuring that these resources are deployed effectively, transparently, and in a manner that maximizes their impact" he assured.
Mr. Irchad Razaaly, EU Ambassador to Ghana and Head of the Delegation to Ghana who signed the agreement on behalf of the European Union noted that, the agreement represented an exhaustive approach to sustainable development that would impact not only Ghana but also serve as a catalyst for the implementation of the EU's Global Gateway strategy.
He said the strategy sought to promote smart, clean and digital investment co-operation with the EU partner countries.
"The financing agreements that we are signing today is a testament to the strong partnership and shared commitment between the European Union and Ghana," Mr. Razaaly stated.
Throwing the spotlight on the agribusiness element, the EU Ambassador to Ghana said that element would foster economic growth, promote livelihoods and promote food security.
Mr. Razaaly said the private and the public financial components would help promote a thriving private sector and promote transparency and accountability in the use of public funds.
He also assured Ghana of the EU's support for the Planting for Food and Jobs Programme, which has an aim of boosting the country's agricultural sector, to give more opportunities to the youth as well as increase food production to meet both local demand and for exports. END