Accra, Friday 6th October, 2023 - The Ghanaian economy has attained the much-needed stability as major economic indices such as inflation and the exchange rate continue to fall, restoring investor confidence, Minister for Finance, Ken Ofori-Atta has said.
He said this at a joint press conference with the IMF on attaining a Staff Level Agreement (SLA) after the first review of the IMF-Supported Post-Covid-19 Programme for Economic Growth.
Government used the press conference to announce Ghana's completion of its First Review of the IMF programme under deliverables which included six Quantitative Performance Criteria, three Indicative Targets and three Structural Benchmarks.
This achievement, he underscored, came just five months into the programme, setting a rapid pace toward the approval of the First Review by the IMF Executive Board in November 2023.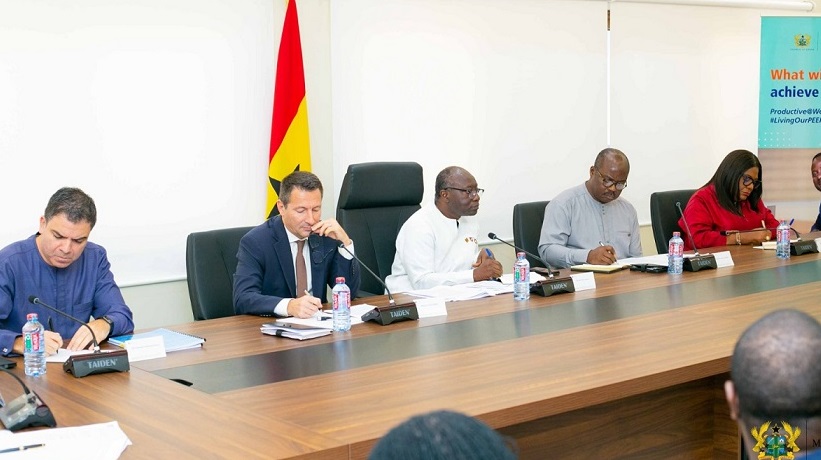 Sounding optimistic about the future of the economy, he among other things enumerated that, the GDP Growth had rebounded strongly averaging 3.2% in first two quarters compared to 3.0% in same period in 2022 mainly on the back of growth in services (avg. 6.3%) and in Agriculture (avg. 6.2%).
''Latest Price development in August 2023 indicated a fall in headline inflation, after consecutive upward trends since May 2023. Headline inflation dropped to 40.1 percent, from 43.1 percent in July and 42.5 percent in June 2023, respectively," he revealed.
''I am pleased to announce that the progress we sought to achieve is very much on course; the stability that the Ghanaian Economy was very much in need of has been achieved. We said we have 'Turned the Corner' and the major economic indicators such as inflation and exchange rate continues to drop and stabilise, and there is confidence returning in the economy,'' Mr. Ofori-Atta added.
Obtaining the Staff Level Agreement (SLA) at these times of prolonged global uncertainty, according to the Finance Minister, was a significant achievement, especially, given that other countries had faced difficulty in obtaining SLA in comparable years.
Minister Ken Ofori-Atta expressed his gratitude to the Fund staff for their efforts and their support, stating, "We appreciate the extent to which the Fund staff worked to give us this very needed space, which ended up being frontloaded, such that by November, the Fund would have released US$1.2 billion out of the $3 billion."
He, however, noted that there were milestones to cross to secure a Board approval which included an agreement on a Memorandum of Understanding with the bilateral Official Creditor Committee (OCC).
''We are optimistic that, once again, our bilateral creditors will deliver the MoU in time for our Board in November as we continue our engagements'' he disclosed.
Mr. Stéphane Roudet, Mission Chief for Ghana, praised Ghana's adjustments in macroeconomic policies, successful domestic debt restructuring, and wide-ranging reforms, which had already yielded positive results and added that, the staff-level agreement on the fiscal review were to subject to IMF Management approval and Executive Board consideration.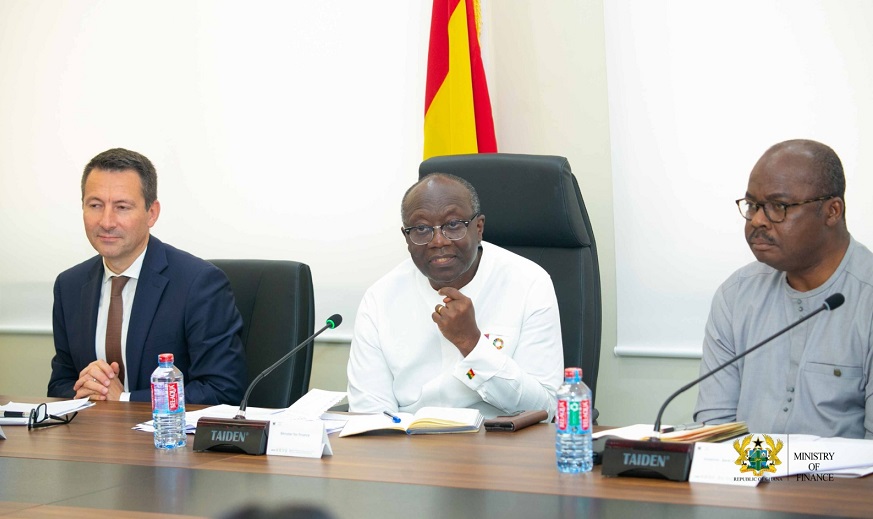 He stated, "These actions are already generating positive results, as growth in 2023 has proven more resilient than initially envisaged, inflation has declined, the fiscal and external positions have improved, and the exchange rate has stabilized."
Mr. Roudet emphasized the importance of securing an agreement with official creditors on terms consistent with the IMF Executive Board-approved programme parameters and debt targets. He urged official creditors to agree on an appropriate debt treatment in line with the financing assurances provided in May 2023.
Dr. Ernest Addison, Governor of the Central Bank in his remarks indicated that, the ''very decisive'' measures put in place by the government and the Bank of Ghana had started yielding results, gesturing a faster than expected turnabout which needed to be continued.
Reiterating the Minister's assertion of a turnaround economy, the Governor noted that, Non-Food inflation had dropped significantly by 19 percentage points, Food inflation is also down by some 8 percent.
''Core inflation, which measures underlying inflation, is also decelerating at a fast pace. From the beginning of the year to date, the Bank of Ghana has built reserves of about US$650 million instead of a programmed draw-down of US$98 million. And this has been boosted by the innovative Gold for Reserves programme'.
Dr Addison reaffirmed the Bank of Ghana's resolve to maintain a tight monetary policy stance until it was sure that inflation was firmly anchored and aligned with the programme's disinflationary path.
Present at the press conference were the IMF Resident Representative, Mr. Leandro Medina, Hon. Mohammed Amin Adam, Minister of State at the Ministry of Finance, Hon. Abena Osei-Asare, a Deputy Minister at the Ministry of Finance, Dr Maxwell Afari-Opoku, First Deputy Governor of the Bank of Ghana, Mrs Elsie Addo Awadzi, Second Deputy Governor of the Bank of Ghana, Ms. Eva Mends, Chief Director of the Ministry of Finance, Officials of the Ministry of Finance and the Bank of Ghana, the IMF Mission Team members and the Media .END