New York, 20th September, 2023 - Minister for Finance, Ken Ofori-Atta, has made a clarion call to action urging the global financial community to undergo a profound transformation to confront the pressing climate crisis affecting Africa.
Mr. Ofori-Atta emphasized the critical need for increased financing to support Africa's adaptation and mitigation efforts in the face of climate change.
"Africa is at a crossroads. We face the double challenge of climate change's devastating impacts and the need for sustainable development," Minister Ofori-Atta stated during his address at a side event at the 78th United Nations General Assembly.
Studies indicate that Africa bears the brunt of climate change, with costs estimated to range between 5 percent and 15 percent of its per capita GDP annually. An alarming 278 million people on the continent suffer from chronic hunger, while 250 million live in regions grappling with high water stress. Despite these challenges, Africa is a region teeming with opportunities, especially in the clean and renewable energy sector.
However, climate finance remains a major hurdle, falling significantly short of what is required to address these issues. Africa needs a staggering US$277 billion annually to fulfill its Nationally Determined Contributions by 2030. Currently, annual climate flows to the continent stand at just US$30 billion, representing less than 11 percent of the necessary funding.
Mr. Ofori-Atta highlighted a concerning statistic: almost 55 percent of Africa's climate finance comes in the form of debt, while the private sector contributes only 14 percent of total climate finance, with a mere 3 percent allocated toward adaptation finance.
"Much more financing must flow to support Africa's adaptation and accelerate its mitigation," he urged.
The Minister emphasized two critical steps to address this crisis. First, he called on wealthy nations to fulfill their promised US$100 billion per year in climate finance. To date, only 7 out of 23 countries have met their fair share of commitments, leaving Africa in need of substantial additional support.
"Even if delivered, that is only a drop in the ocean," the Minister lamented.
Second, with rising debt levels and borrowing costs, climate action in Africa must be funded through more equity investments and concessional financing. This necessitates substantial, accessible, and predictable inflows of conditional finance.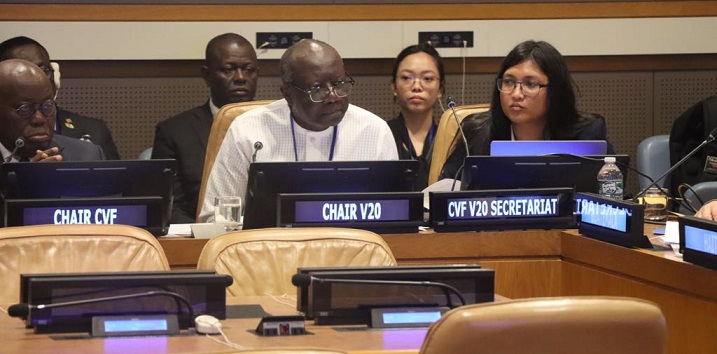 He observed that despite Africa's immense potential for green investments, the continent currently attracts less than 1 percent of global green bond issuances, estimated at US$600 billion.
Additionally, the cost of African green bond issuance is more than double that of similarly rated peers, hampering the region's access to climate financing.
To overcome these obstacles, Mr. Ofori-Atta stressed the need for appropriate vehicles to channel climate finance and strengthen domestic capacity, ensuring African countries can attract climate financing at scale.
"The international community, including the private sector, must rally around a solution that ensures African economies are not shut out of green finance opportunities due to perceived 'riskiness'," he emphasized.
In addition to debt-for-adaptation swaps and credit enhancement, he highlighted the role of carbon markets.
The Minister noted that when this is properly designed and integrated, carbon markets can channel private finance toward profitable and sustainable activities, bridging the gap between environmental goals and financial interests. The interconnected nature of these markets can create larger, more liquid markets, drawing in more participants and investments while addressing multiple Sustainable Development Goals.
Lastly, the Minister endorsed the Nairobi Declaration, which calls for a global carbon taxation regime and a carbon tax on fossil fuel trade, maritime transport, and aviation. This would provide dedicated and affordable finance for climate-positive investments at scale, with a focus on ring-fencing these resources to ensure they are used for the benefit of Africa and its climate action goals. END