Accra, 30th June 2023 - Ghana's Finance Minister, Hon. Ken Ofori-Atta has on behalf of Government and the good people of Ghana, donated eleven (11) Twenty-Footer Containers of ready to eat cocoa products as emergency relief items to the people of Turkey.
Presenting samples of the products to the Turkish Ambassador to Ghana, H.      E. Hüseyin Güngör, Mr. Ofori-Atta stated that "Today, we stand in solidarity with our brothers and sisters in Turkey, as they grapple with the aftermath of the catastrophic earthquake that claimed over 50,000 lives and displaced millions from their homes".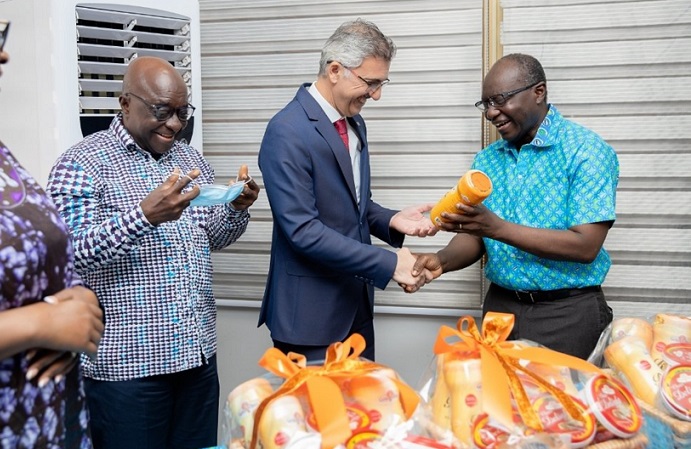 It will be recalled that, a 7.8-magnitude earthquake rocked Turkey and Syria on February 6, killing more than 54,000 people in both countries. According to a World Bank report, the two major earthquakes which hit Turkey on Feb. 6 caused about $34.2 billion in direct physical damage, but total reconstruction and recovery costs facing the country could be twice as high.
The Minister noted that, it was "morally imperative" for Ghana to lend a helping hand to a country with which it had a relationship that went beyond economic ties to genuinely human since 1958.
"In line with this spirit, the Government, and people of Ghana, through the collaborative efforts of the Ministry of Finance, Ministry of Foreign Affairs, and the Cocoa Processing Company (CPC) have procured eleven (11) twenty-footer containers of ready-to-eat cocoa products as emergency relief items", he added.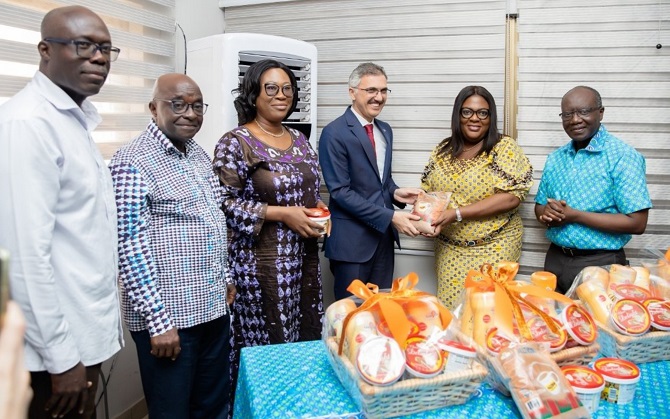 On how the Government chose to share cocoa products with Turkey, he stated that, cocoa represented Ghana's heritage and so by this kind gesture, we have shared a piece of our history and soul with our friends in distress situation.
The Minister was hopeful that, the cocoa products would help relieve some of the immediate challenges faced by the over 10 million people who needed urgent aid because of the impact of the disaster.
He used the occasion to present a framed Adinkra symbol "Nkyinkyim" as a gift to the Ambassador. Nkyinkyim means "twisting" a symbol representing the tortuous nature of life's journey. It is also a symbol of initiative, adaptability, dynamism and versatility.
For his part, the Ambassador of Turkey, Huseyin Gungor commended government for the thoughtful contribution to the victims' rehabilitation process.
"In difficult times you see your friends and partners. I would like to thank the government of Ghana and we look forward to a bright future for both countries," he said.
Present at the short but momentous event were Ambassador Jane Gasu, who represented the Minister for Foreign Affairs and Regional Integration, Hon. Shirley Ayorkor Botchwey, Ms. Eva Mends, Chief Director at the Ministry of Finance, Mrs. Evelyn Amable, Director, Europe Bureau at the Ministry of Foreign Affairs and Regional Integration, Mr. Kwaku Owusu Baah, Board Chairman of Cocoa Processing Company, Dr. Frank Asante, acting Managing Director of Cocoa Processing Company, Mr. J. Ekow Rhule, Head, Corporate Communication, CPC.
The rest included Mr. Jefferson Sackey, Deputy Director of Communication at the Office of the President and officials of the Ministry of Finance and the media. END