Monday 19th June, 2023 - The President of the Republic of Ghana, Nana Addo Dankwa Akufo-Addo has indicated that, Africa's desire for sustainable economic growth was unattainable without strong development finance institutions.
He spoke at the ongoing 30th Annual General Meetings of the African Export-Import Bank, (Afreximbank), in Accra where over 2000 participants made up of political and business leaders, bankers, and other trade and trade finance practitioners from across Africa and beyond, including leaders of several member countries of the Caribbean Community.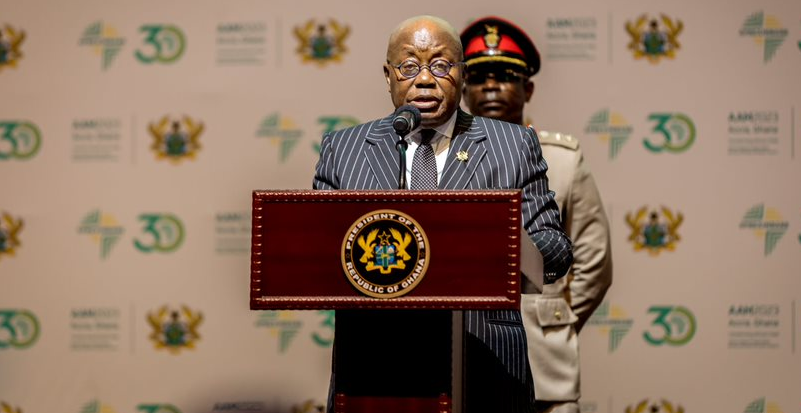 The President told participants that Africa's financial development institutions had remained highly undercapitalized, saying that the time was ripe for enhanced and effective coordination with the African Union to be able to deliver effectively for the continent. Over 16 heads of state and governments and former heads of state and more than a thousand delegates are attending the conference.
Speaking under the theme, "Delivering the Vision, Building Prosperity for Africans", he indicated that, the continuous reliance external support for the continent would also lead to huge financial linkages through high cost of default-driven borrowing rates and interest payments.
Citing the China Exim Bank with a $54 billion capital base, he said Afreximbank's $6 billion was too inadequate to meet its objectives and called on African countries and Africans to raise the shareholders by subscribing to their allotted shares.
After commending the Afreximbank for its catalytic role in Africa over the years, he urged the Bank to continue to improve its rating with the credit rating agencies in order to enhance its operations and be able to work consistency for Africa and the African Diaspora.
The AU champion for financial institutions further disclosed that, "Afreximbank under its countercyclical response mechanism provided a timely support to help Ghana navigate the macroeconomic management challenges worsened by Russia's aggression of Ukraine in an orderly manner when suddenly we realized we were alone".
"When dealing with powerful global financial institutions, it is important to have your own powerful financial institutions," Akufo-Ado said.
He pledged to work for the Bank to be admitted to a special status at the AU in recognition of its role and contributions to the continent, describing AAM2023 as a truly intercontinental event with the participation of several Caribbean countries that had become full members.
He appreciated the Bank's support for Ghana, noting that its first transaction was with the Ghana Cocoa Board, adding that, Afreximbank had provided timely support to Ghana through its Counter-Cyclical Liquidity Facility (COTRAFL) which it had put together at a time when global financial institutions were exiting Africa.
The over thousand delegates will deliberate on, "Challenges of Peace and Security: What would it take for Africa to feed itself; Overcoming the challenges of food security for sustainable development in Africa; Building Prosperity: African Culture and Literature as a Foundation for African Renaissance; Delivering the Vision Corporate Perspectives; and The Future of Integration in Africa.
Other sessions will cover: The Benefits of Strong Continental Financial Institutions; Towards a Unified Vision for the Prosperity of Africans; A New Middle Passage by Africans for Africans — Strengthening interconnectivity between Africa and its Diaspora for shared Prosperity; From Parents to Offsprings: Realizing the Vision of Pan Africanism across Generations; Sport as a new Opportunity for Inclusive Growth; Lessons from History as an Opportunity for the Future — Reflections from Africa and the Caribbean; Delivering Prosperity Through Industrialization; Leveraging the Power of Intra-African Trade and Commodity-based Industrialization; Leveraging the Power of Science and Technology in a Digital Era; United We Stand: Deploying Afro-Caribbean Resources for Sustainable Development.
Present at the opening ceremony, were, HE Azali Assoumani, President of Comoros, HE Lazarus Chakwera, President of Malawi, HE Mia Motley, Prime Minister of Barbados, HE Faure Gnassingbe, President of Togo, HE Aymen Benabderrahmane, Prime Minister of Algeria, HE Patrice Émery Trovoada Prime Minister of Sao Tome and Principe, HE Dr. Ralph Everard Gonsalves, PM of St Vincent and the Grenadines, HE Philip Davis, Prime Minister of Bahamas, HE Brigadier Mark Anthony, Phillips Prime Minister of Guyana, Former President of Nigeria, H.E Olusegun Obasanjo, Former President of Niger, H.E Issoufou, Former Vice President of Nigeria, Namadi Sambo, Former Prime Minister of Ethiopia Haile Mariam, HE Demeke Mekonnen, Deputy PM and Foreign Minister of Ethiopia, Hon. Njuguna Ndung'u Minister of Finance Kenya, Hon. Matia Kasaija Uganda, Minister of Finance, Uganda, and HE Professor Benedict Oramah, President and Chairman of the Board of Directors of Afrexibank.  END.