Accra, 10th August, 2021 - The Minister of Finance, Ken Ofori-Atta on behalf of the President of the Republic of Ghana has on the 10th August, 2021 sworn in eleven-member board for the Securities and Exchange Commission (SEC). 
The reconstitution of the Board was in line with the Securities Industries Act, 2016 (Act 929) as amended.
The eleven-member board are: Dr Yeboa Amoa as the Chairperson, Rev. Daniel Ogbarmey Tetteh, Mrs. Debora Mawuse Agyemfra, Mr. Paul Kwabena Ababio, Mrs Elsie Addo Awadzi and Mr. Sampson Akligoh as members. Others are, Mrs. Jemima Mamaa Oware, Mr. Yaw Acheampong Boafo, Mr. Agustine Addo, Prof. Joe Amoako-Tuffour and Madam Deila Awo-Yaa Assimeh also as members.
Giving his remarks during the inaugural ceremony held at the Ministry of Finance, Minister Ofori-Atta acknowledged the chain of progress achieved by SEC in the past four years. He noted all those achievements were realized with the support of the Ministry and under the leadership of His Excellency, Nana Addo Dankwa Akuffo-Addo.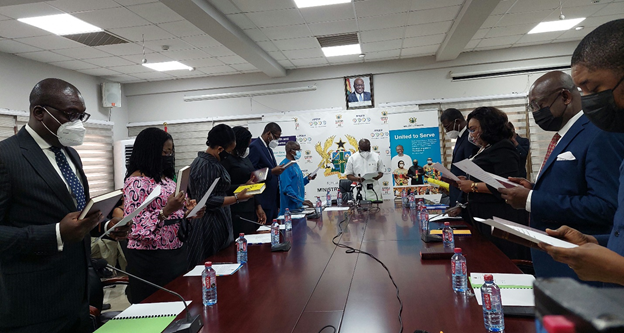 He acknowledged that the Securities and Exchange Commission which has the mandate to regulate, innovate and promote the growth and development in the securities market has started a number of initiatives including, creation of a National Financial Data Hub, International Financial Services Centre, Investor Protection Fund, achieving a signatory status under IOSCO and implementation of the Capital Market Master Plan. 
Based on these, Mr. Ofori-Atta charged the newly inaugurated board to ensure execution and continuity of those initiatives. "It is imperative for the Board to ensure that these initiatives are continued to the point of completion," he stressed. 
Among other things, the Minister assured SEC of the Ministry's continues support to strengthen the capital market and its institutions to enable them serve credit institutions and businesses with access to long term capital. To this end, he urged the Board to work with the management of SEC to play leading roles in all financial sector engagements and work with the Ministry to achieve successes. 
The Board Chairperson, Dr. Yamoa Amoa, speaking on behalf of members affirmed that amidst the challenges the industry faced in the past four years, SEC recorded some success. He was quick to admit the term ahead would be daunting, however, he added, together the team will ensure growth and development of the Ghana Capital Market in the manner that protects the interest of investors and the integrity of the market. END