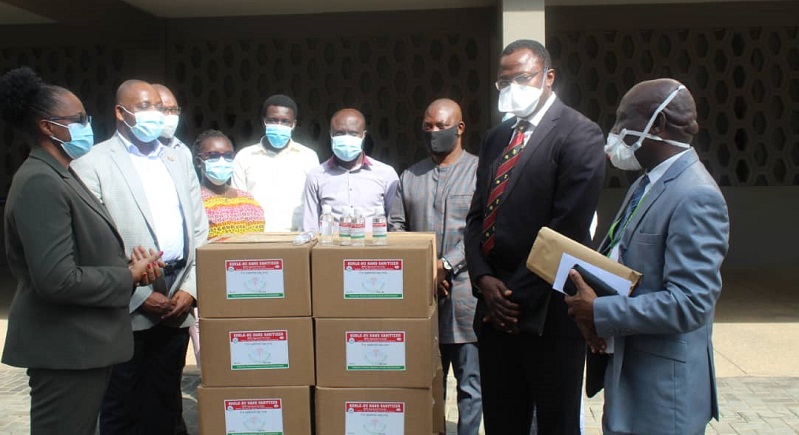 Accra, 26th November, 2020 - The Chief Executive Officer of Korle Bu Teaching Hospital, Dr. Opoku Ware Ampomah has on behalf of the hospital, donated 30 boxes of hand sanitizers produced by the Pharmacy Department of the hospital to the Ministry.
The kind gesture according to Dr. Ampomah was in appreciation of the Ministry's support to the hospital on a number of projects they embarked on.
 He added that as health professionals, it was imperative to contribute their quota to the fight against the COVID-19 Pandemic, hence, the donation to the Ministry.
The CEO who used the opportunity to introduce himself as the new Chief Executive Officer of the hospital underscored the need for heightened collaboration between institutions to enhance performance.Receiving the 30 boxes containing 1600 pieces of the hand sanitizers on half of the Ministry, Ms. Cecilia Isabella Akwetey, Head of the Public Relations of the Ministry commended the C.E.O of the hospital for the kind gesture and gave the assurance that the items would be used for its intended purpose.
She disclosed that as part of the Ministry's effort to fight the deadly pandemic, a number of initiatives and interventions had been adopted by Management of the Ministry. These included the rotation of staff to reduce the human contacts in the office, provision of hand sanitizers, Vitamin C and Zinc tablets to all staff.
The Chief Executive Officer was accompanied by Mr. Maxwell Doh, Director for Finance, Mr. Munir Alhassan, Director of Administration and Mr. Samuel Akotuah, Director of Human Resource. END