A handbook that spells out the Ministry of Finance's Employee Wellbeing policy on communicable and non-communicable diseases including HIV and AIDS, hypertension, cancers and malaria has been launched by the Hon. Deputy Minister of Finance, in charge of Revenue Mr. Kwaku Kwarteng at the Ministry of Finance during the Ministry's first staff durbar of the year.
Hon Deputy Minister who was assisted by Chief Director, Ministry of Finance, Mr. Patrick Nomo and other management members noted that the welfare of employees has a direct impact on the success of any organization.
"When employees are healthy, they are more likely to perform better, feel happier and are more resilient, as a result, the risk of illness, injury or depression is reduced, and organizations are likely to have lower rates of absenteeism and greater productivity" Mr. Kwarteng noted.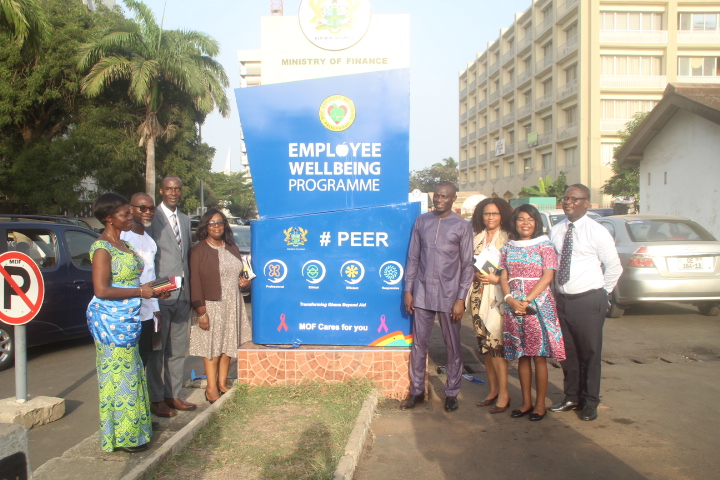 The policy was developed in collaboration with Management of the Ministry of Finance due to the profound negative social and economic effects of a stressful workplace or unhealthy work situations. The document has put in place policies and interventions that addresses multiple risk factors and health conditions concurrently.
Charging all staff to embrace this new document, the Deputy Minister of Finance hinted that the policy was to serve as a guide to the Ministry in its quest to prevent the spread of diseases among workers and their families, by creating an environment that is devoid of stigma and discrimination, whilst providing the necessary guidelines on how to provide support to workers who are infected or affected by diseases.
As part of work plan for the Ministry for 2019, the Committee will continue to conduct health screen and blood donation exercise, health walk and aerobics at Aburi mountains, health seminars on lifestyle among others.
Addressing the staff gathered for the 1st staff durbar on behalf of the Hon. Minister of Finance, Mr. Ken Ofori-Atta, Hon Kwaku Kwarteng, noted that Ghana's impending exit from International Monetary Fund (IMF) Extended Credit Facility represented a physical and spiritual liberation for Ghana.
"This is an opportunity for Ghana to demonstrate her ability to manage her financial affairs while building partnerships with our fellow African countries and the rest of the world and this rests with all of us gathered here as managers of the public purse" Hon Finance Minister revealed.
He underscored the need for staff to remain optimistic and continue to offer the much needed support to the new Divisional Directors and the new Coordinating Director roles established by the Office of the Head of Civil Service as part of the Ministry's restructuring exercise.
According to Mr. Ofori-Atta, the Ministry was undertaking a skills audit at the end of which there would be further changes at the middle and junior management levels to ensure optimal use the talents and skills at the disposal of the Ministry.
"Our adaptation of a new approach to economic management to restore macroeconomic stability have improved the fiscal indicators considerably since the slippages at the end of 2016. The following have been achieved;
Real GDP growth recovered from a low of 3.4 percent in 2016 to 8.1 percent in 2017, with the third quarter GDP growing at 7.4 percent against the 2018 end-year target of 5.6 percent
End-period inflation, which was at 11.8 percent at end of December 2017 declined to 9.4 percent at end of December 2018 and 9.0 percent at the end of January 2019.
For the first time in more than a decade, we recorded a surplus in the trade balance account of 2.0% of GDP in 2017, improving further to 2.7% of GDP at the end of 2018.
The Bank of Ghana Monetary Policy Rate saw a reduction in interest rates from 25.5% by end-2016 to 20% by end end-2017 and currently stands at 16%."​​​​​​
He urged all not to rest on their oars but rather continue to support management with innovative ways of making this year more productive in terms of what we want to achieve than last year.
Touching on the depreciation of the cedi, the Minister of Finance disclosed that the right strategies had been put in place and Ghanaians would feel the positive effects and the appreciation of the cedi against other major currencies in the coming days. END