Accra, Ghana, 10th July, 2023… The Government of Ghana and the Coalition of Individual Bondholders Groups (CIBG), comprising members of the Individual Bondholders' Forum (IBF) and the Individual Bondholders' Association of Ghana (IBHAG), on 16th May, 2023, reached agreement regarding the government's outstanding domestic debt service obligations. This agreement was captured in a Memorandum of Understanding (MOU) dated 16th May, 2023.
Per the terms of the MOU, the government undertook to pay all arrears on coupons of bonds maturing by 31st May, 2023, as well as coupons falling due from 1st June, 2023.
The Ministry of Finance hereby announces that it has made good its promise and settled all outstanding coupons and principal payments up until 19th June, 2023. Instructions have also been sent for payment of coupons falling due up until today, 10th July, 2023. Below is the list of instruments covered: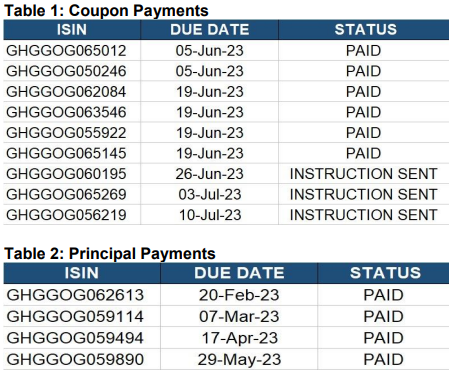 The Government of Ghana reassures all bondholders of continuing and constructive engagement with the leadership of the CIBG, as well as government's commitment to the implementation of the terms of the MOU.
The Ministry of Finance takes this opportunity to thank all bondholders for their continuous support during this period of tight liquidity. Government is confident that in working with all stakeholders, we shall restore macroeconomic stability, achieve inclusive economic growth, and transform the Republic. END