Accra, 11th September 2023 - The Chief Director of the Ministry of Finance, Ms. Eva Mends has called on West African leaders to pursue policies aimed at sub- regional economic integration to withstand recurrent shocks and provide opportunities for the African youth.
In her welcome address at the 53rd meeting of the Technical Committee of the member states of the West African Monetary Zone (WAMZ) in Accra, she hinted that, it was imperative for the West African sub-group to emulate other blocks that had demonstrated the value of economic integration for its people.
''Indeed, our location, common history and ecology predetermines that our economic security and destiny is rooted in integration'' she stated.
According to her, with West Africa's young population of around 430 million expanding at a rate of 2.5 percent per year, it was critical for leaders to ensure sub-regional economic policy integration in order to avoid regional security risks caused by unemployment and stalled human development.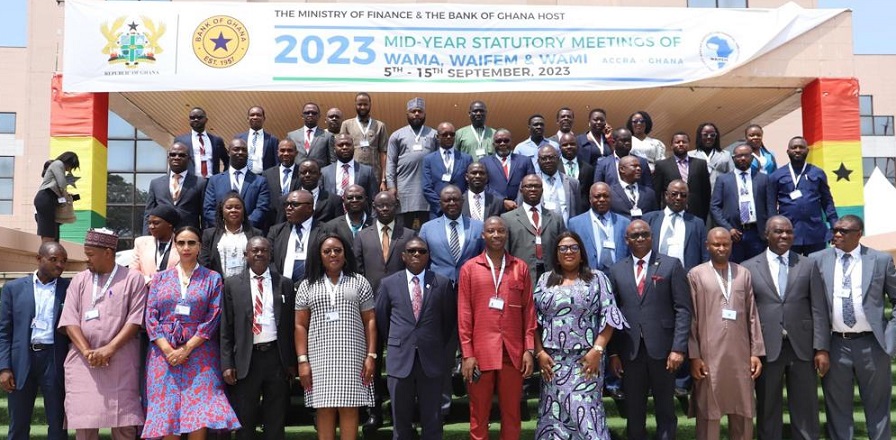 ''It has been argued that weak economic performance and inequitable development is at the heart of these instabilities. Therefore, to increase opportunities for peoples of the region and build economic resilience to recurrent shocks, we must urgently and deliberately pursue the economic integration of our sub-region and rake in the extensive benefits for our peoples,'' the Chief Director disclosed.
The Government of Ghana under the auspices of the Ministry of Finance and the Bank of Ghana, and in collaboration with the West African Monetary Agency (WAMA), the West Africa Institute for Financial and Economic Management (WAIFEM), and the West Africa Monetary Institute (WAMI) is hosting the 2023 Mid-Year Statutory meetings of the West African Monetary Zone.
The meetings will include a comprehensive review of Macroeconomic Developments and Convergence reports for member states and assess the progress made toward meeting the primary and secondary criteria required for macroeconomic convergence within the zone.
Ms. Mends noted that, the meeting was opportune time for policy makers to address the increasing political instability and insecurity and its intensifying impact of economic stability as well as progress on the proposed implementation of a Single Currency across West Africa.
The success of the meeting, the Chief Director implored, was crucial for the success of the ECOWAS-wide project as it served as the platform to "speedy policy harmonisation, economic integration, and institutional development".
​The West African Monetary Zone (WAMZ) is composed of six member states: The Gambia, Ghana, Guinea, Liberia, Nigeria, and Sierra Leone. Its organizational structure includes the Authority of Heads of States and Government of the WAMZ, the Convergence Council, the Committee of Governors, and the Technical Committee. These meetings are hosted by Member States of the WAMA and WAMZ on a rotational basis.
Present at the meeting were Members of the Diplomatic corps, Academia, the Security, and the Media. END