Accra, Friday 3rd February, 2023 - Minister for Finance, Ken Ofori-Atta has met with his German counterpart, Christian Lindner to discuss broad areas of partnership in Accra.
The bilateral meeting which was to further enhance Germany-Ghana relations discussed among other things, the scaling up initiatives that build resilience and promote sustainable inclusive growth and, safeguarding both climate/environment and internal security.
Other topics included strengthening the capacity and governance of public sector institutions, strengthening Ghana's anti-money laundering regime, digitalization and exploring avenues to address fiscal imbalances and debt vulnerabilities.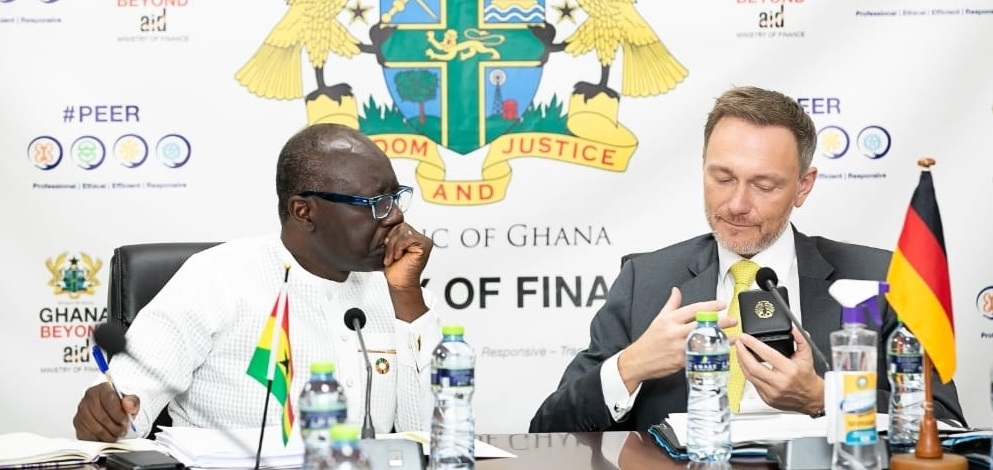 In his address to the media after the bilateral discussions, Hon. Ofori-Atta disclosed that, Ghana's long-standing relationship with the Federal Republic of Germany has benefitted the country in several areas of the economy.
"Our partnership with Germany has already led to significant advancements across Ghana's energy, financial and governance sectors. And crucially, both myself and Christian look forward to maintaining this forward momentum" he noted.
The Government of Ghana, he stated, would continue to "rely on Germany and other key development partners as we embark on a journey to fundamentally reposition our economy and shape our collective progress".
The German Finance Minister, Christian Lindner also in his address to the media noted the effect of the Global pandemic and the impact of the Russian war in Ukraine on Ghana's economy and said that "this is why Germany supports your efforts, Germany, is the second largest bilateral creditor of Ghana, so, we have a responsibility".
According to Mr. Lindner, the role of the private sector banks was critical in ensuring the economy bounced to the path of growth and that it was essential for Government to consider possible ways to restructure the country's sovereign debt which was held by bilateral creditors.
"We cannot only focus on debt restructuring without fostering the policy reforms you have already introduced so you have to apply fiscal measures in your budget, macro-economic recovery, and debt operations. Only the three of these together will bring Ghana back to sustainable economic development over the next years," German's Finance Minister emphasized.
He went on to speak about Germany's interest in Ghana's development, politics and stability indicating that they were engaged in Ghana, through the KfW Development Bank which was financing a number of projects in both public and private sector.
"We have a vital interest in the success of Ghanaian politics. We want to see West Africa as a whole stay stable. We are interested in the economic well-being, progress of Ghana. We know that there are opportunities across this country it has dynamism, and we really appreciate the efforts the government has made over the last year; extending human capital, and focusing on improving social mobility in society" he said.
The Minister later called on bilateral creditors such as China to as swiftly as possible join the International Creditors Committee under the common framework for Ghana's debt restructuring.  
In attendance at the meeting were a Deputy Minister for Finance, Hon. Abena Osei-Asare, German Ambassador to Ghana, H. E Ambassador Daniel Krull, Officials from the Ministries of Finance in Ghana and Germany and Officials of German Embassy and the media. END