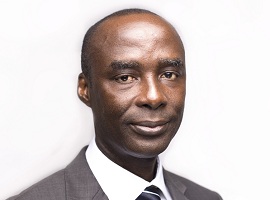 Accra, 3rd May, 2018 - Chief Directors of Ministries and Government Agencies last week signed performance agreements with the Office of the Head of the Civil Service (OHCS) to deliver quality services to the public.
The ceremony was used to award the five best performing chief directors for 2017.  Mr. Patrick Nomo, Chief Director of Ministry of Finance was adjudged the 4th best performing Chief Director among 30 others and awarded with a plaque. 
Godwin Joseph Brocke of the Ministry of Roads and Highways was adjudged the Overall Best Performing Chief Director. The rest in succession are Enoch Cobbinah, Ministry of Education; Solomon Asoalla, Ministry of Works and Housing; and Adelaide Annoh Kumi, Ministry of the Interior
Mr. Patrick Nomo dedicated the award to staff of MoF and took the opportunity to thank Management and staff of the Ministry for their unflinching support during the year under review. He entreated all to put in extra efforts to ensure MoF is first in 2018.
Present were Hon. Abena Osei-Asare, Deputy Minister (B) and Mrs. Stella D Williams, Director, Monitoring and Evaluation, MoF.
The performance agreement was re-introduced in 2013 and revised each year, is a tool used to evaluate the Chief Directors and ensure accountability for their stewardship. The Head of Civil Service, Nana Agyekum Dwamena, the Chief Directors and their respective Ministers, signed the agreement.