Mrs Evelyn Abena Arthur is a Public Financial Management expert with over twenty years' experience in local government budget planning, gender budgeting, financial management, revenue mobilization, social accountability and citizens' participation in local governance.
She was appointed Director of Budget in January 2019. Until her appointment, she was the Head, Budget Planning and Preparation Unit of the Budget Division of the Ministry, where she coordinated the process for the preparation of the national Medium-term and annual Budgets and related Government Policies for timely submission to Parliament for approval.
She played an instrumental role in reforms in the Budget Division which culminated in the development of strategic plan, performance management framework, work plans among other things.
She had worked as a budget analyst in the Greater Accra, Ashanti and Central regions of Ghana and rose to become Ag. Regional Budget Analyst for the Central Region.
As the Acting Regional Budget Analyst in the Central Region, she supervised the work of 12 district assemblies, coordinating and analyzing their quarterly reports and advising the Regional Coordinating Council and the Ministry Finance on intervening policies for the districts.
She had also worked to strengthen democratic governance between public and civil society organizations. She was the Chief of Party for the Government Accountability Improves Trust Programme, a USAID funded local government capacity support project. As the Chief of Party, she worked extensively with various district assemblies and civil society organizations in social accountability and participatory methodologies and exercised direct technical and management functions which included, supervision of the implementation of project activities in 25 districts of Ghana.
Mrs Arthur is an alumnus of the Kwame Nkrumah University of Science and Technology where she obtained a Bachelor of Arts Degree in Social Sciences. She also has an MA in Development Studies from the Institute of Social Studies in the Netherlands.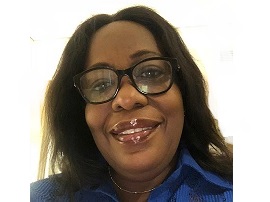 Evelyn Arthur
Director, Budget Division