Mr. Frimpong Kwateng-Amaning is the Director of the Real Sector Division.  He joined the Ministry in January 1993 as an Economics Officer from the erstwhile the National Economic Commission, and rose to become a Chief Economics Officer in 2010.  In the course of his career at the Ministry of Finance, he had the opportunity to work with the European Union Office in Accra as an Economist from 2004 to 2006, and as a Senior Advisor to the Executive Director of Ghana's Constituency at the World Bank Headquarters in Washington DC, from July 2013 to August 2016.  He was appointed to his current position in October 2016, after returning from his duty tour at the World Bank.
Before his posting abroad, he worked with the Economic Research and Forecasting Division on Macro-Fiscal issues and represented the Ministry of Finance on the Foreign Exchange Auction Committee and the Open Market Operations Committee of the Bank of Ghana.  He later headed the ECOWAS desk of the Ministry, and led the Ghana team in negotiations with other countries in the sub-region on some major initiatives of ECOWAS, including, the ECOWAS Common External Tariff, ECOWAS Community Development Programme, the ECOWAS Macroeconomic Initiative (ECOMAC) as well as the ECOWAS Interstate Road Transit (ISRT) Programme.
Frimpong has previously served on the following Boards and Steering Committee:
ICOUR Board
METASIP Steering Committee
Cocoa Marketing Company Board
He is currently a Steering Committee member of the Ghana Oil and Gas for Inclusive Growth (GOGIG) and a Technical Committee member of the John A. Kufuor Foundation on Zero Hunger. He is the Programme Supervisor of African Risk Capacity (ARC), and the Focal Person for the National Designation Authority (NDA) of the Green Climate Fund in Ghana.
He holds a B.A. Honours degree in Geography and Economics, and a Diploma in Education both from the University of Cape Coast, and a Master of Arts degree in International Economics from the International University of Japan. He has attended several courses in macroeconomic modeling and financial programming, and delivered papers at the African Fiscal Policy Forum held in South Africa.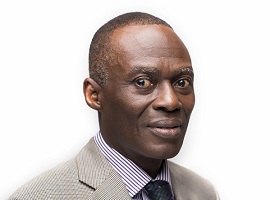 Frimpong Kwarteng-Amaning
Director, Real Sector Division